If you were arrested for a DUI in the Riverside County area call The Law Office of Daniel P. Flores to speak to an experienced DUI trial defense lawyer immediately 1-888-326-0919. Daniel P. Flores has successfully defended well over a thousand DUI cases and knows how to provide the best defense for his clients in and out of the courtroom. He has defended DUIs throughout Riverside including at the following courts: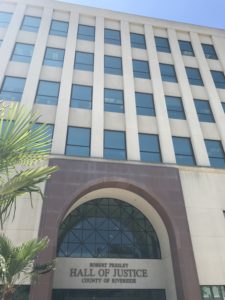 Riverside Courthouse in Riverside
Southwest Justice Center in Murrieta
Riverside Superior Court in Indio
If you were given a notice to appear in one of these courts in Riverside County for a DUI or criminal offense , contact The Law Office of Daniel P. Flores for a free consultation and to choose a lawyer that will appear on your behalf at a Riverside court. After a DUI arrest you will be required to appear in court before a judge. Failing to appear could result a bench warrant for your arrest.
The Law office of Daniel P. Flores will provide you with the help you need in Riverside for a DUI arrest or an arrest for some criminal offense. We will help to win your DUI case or minimize the consequences from your DUI. Our Riverside DUI lawyer will be able to assist you with the DMV action if you contact us within ten days from your DUI arrest.
If you or a loved one was arrested in Riverside or the surrounding area for a DUI it is important you speak with our Riverside DUI lawyer now to review all your options. Pleading guilty to a DUI is NOT your only option. Our Riverside DUI defense lawyer knows the strategies to win your case. Those strategies will be reviewed with the client so they can make the best decision available.
Whether you are eligible for military diversion, mental health diversion, a reduction in the charges or a possible dismissal of all charges, the attorney will review with you how to achieve the best results in your case after reviewing and considering all facts in your case.
DUI's are not all the same and where someone may have plead guilty and accepted terms that include a alcohol program, a fine and probation, another case could result in different results including less harsh penalties. While DUI is a serious offense that may require jail, the lawyer will consider and discuss with you jail alternatives or the best option to fight your case and avoid any jail time.
At the Law Office of Daniel P. Flores we are familiar with the procedures that local law enforcement use in a DUI investigations. We will review your individual DUI arrest report, DMV reports, and traffic collision report to consider the "driving" element, the administration and demonstration of field sobriety tests, the chemical tests and any audio or video recordings that may have been saved from your DUI investigation. Whether you were arrested for a DUI in Riverside by the California Highway Patrol, Riverside County Sheriffs Department, or the local Police Department, the DUI law is the same.
For more information on this important issue call The Law Office of Daniel P. Flores at 1-888-326-0919.